ARTICLE STUB

This article contains either very little or not enough information. As such, it is a stub. If you know any relevant details that aren't listed here, please

help out

by adding them to this page. The wiki very much appreciates your input!
Alikred (アリクレッド) or known as Ali (アリさん) in the anime, is a physical embodiment of the Ring of Gluttony.
Appearance
Alikred's appearance depends of what influcenes Iruma's demon rank. As having Aleph until Beth (1st to 2nd Demon Ranking), the form had an appearance of a small shadow shaped like a miasma ghost. It also had a tiny pair of arms, as well as ears, though it can shift its size to big it it wants to. It also had a cranky, outlandish face as if its always hungry.
After the acquisition of Gimel (3rd Demon Ranking), Alikred's second form assumes a more human-like appearance. Although Alicred only has a singular eye and very prominent ears that stick up from its head, and a large tail. In this form, Alicred wears a black waistcoat and pants, including a matching set of gloves and shoes, with a white shirt underneath.
Personality
In its first form as a ghost-like appearance, it did not have any defining attitude but was only gluttonous, and very cranky as it screamed loudly that all that were present in the school had heard the cry, much to their dismay. It was shown to have mellowed out thanks to Clara Valac's lullaby.
Alicred eventually gained intelligence, and with it came a playful personality. However, Alicred still holds its protective nature over Iruma.
Story Overview
Introduction Arc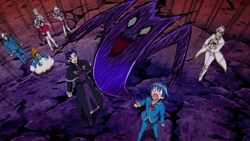 Alikred comes to life after Iruma obtains the Ring of Gluttony from the ranking owl. Everyone was creeper out by its demeanor appearance, which made things worse when it shrieked very loudly, which was heard throughout the school, almost deafening everyone. It was extremely hungry as such was aggressive towards anyone who approached Iruma. Alicred drained both Alice and Sabnock's magical power without a second thought when they both tried to get near to Iruma.
Naberius Kalego
then approaches to take a look at it but it quickly retaliates by showing a threat of a dangerous illusion that it will cut his hand once it tries to come close again.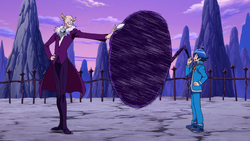 Kalego is stopped briefly by the sudden appearance
Lord Sullivan
when it was about to rip Iruma's arms off. When the creature was then about to clomp to Sullivan while he was busy speaking, Sullivan was able to stop it from running amok by making it gobble a large amount of magic power. Quickly becoming full, it shrinks up, returns and went back to its ring where it resides for a period of time.
Relationships
Ali is quite loyal to Iruma as he sees him as his master since Iruma wears the Gluttoness feeder ring. After acquiring the rank of Hé (5), Ali states to Iruma that they are inseparable and they won't survive without one another.
Abilities
Demonic Scream - When first awoken it used a scream so loud and piercing it made every demon within its radius to cover their ears in pain. It is either harmless to humans, or harmless to the person holding the ring.
High Magic Absorption - It is capable of draining magic from individuals at such a rate with a mere touch it can incapacitate low ranking demons.
Danger Sense - Similarly to its master, it has a powerful ability to detect potential threats to itself.
Unnamed Personality Change Inducement- It possesses an ability that is able to induce a change in one's personality. Alikred uses the variant that is similar to a devil's evil cycle.
Size alteration- After his master moved to rank He (5), Ali can now alter his size to even be as big as Iruma or small as a doll.
Trivia
Alikred is Delkira spelled backwards.
References