ARTICLE STUB

This article contains either very little or not enough information. As such, it is a stub. If you know any relevant details that aren't listed here, please

help out

by adding them to this page. The wiki very much appreciates your input!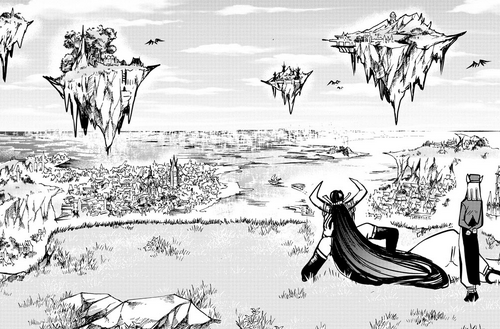 The Demon World (鬼の世界 Omi No Sekai, Realm of Demons), also known as the Netherworld (魔界 Makai), is mainly universe that Mairimashita! Iruma-kun takes place in, and where Iruma Suzuki is transported as at the start of the series. It is a dimension that co-exists alongside the human world, and is filled with magic and populated by demons. Most demons cannot cross between the human and demon world, and most are unaware of the existence of the human world at all.
This world was created by the leadership of the One Demon King Derkila, as he forged his demonkind from a new path of nothingness, to rivers in the sky, as well as the magma and flower gardens, that eventually formed to become what the Demon World consist today.[1]
Locations in the Demon World
Sullivan's Domain
Lord Sullivan's mansion is located directly below Babyls Demon School, in the middle of a wide plateau.[2]
Babyls Demon School
For more information, see Babyls Demon School.
Two Valleys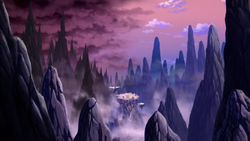 Accessible using the transporter elevator, a type of land can be seen in the middle, surrounded by these two valleys which are located side by side,[3] with Karakiri Valley on the right and Saezuri Valley on the left.
Karakiri Valley
Karakiri Valley is filled with sharp, towering peaks and deep caverns, filled with shadows and twisting paths. It is home to the King of the Valley, as well as his family, which Iruma and Sabnock encounter is Chapters 6 & 7. It is noticeably off-limits to students and teachers due to this fact, and Seazuri Valley is often used instead for school activities.
Saezuri Valley
Saezuri Valley is noticeably safer than Karakiri Valley; it is not home to creatures such as the King of the Valley, and is therefore used for school events. Compared to Karakiri Valley, Saezuri Valley is full of mountainous terrain, with peaks that tower above the clouds. It lacks the sharpness outcrops and shadow-filled caverns that make the other valley dangerous and threatening, instead having a 'rolling hillside' vibe, with rounded peaks and clear skies perfect for easy flying. The nature of the extremely high peaks however, means that flying through Saezuri Valley requires many minor detours to arrive at your destination; as such, some demons are tempted to risk make their way through the much faster Karakiri Valley path.
Babel Tower
For more information, see Babel Tower.
A tower where several elite classifications and representative demons often gather for important meetings and agendas, which consist of 666 floors.
Makubari Dome
An enormous colosseum where popular personalities hosts, mostly Akudols, and perform in a big stage that is usually overcrowded by fans who watch by. [4] It is one of the biggest venues in the Demon World, and considered as a holy place where legendary concerts have been held[5].
Walter Park
A famous attraction park, it is a popular destination during Final Days. Apparently it takes 2 hours to get from Lord Sullivan's home to Walter Park. [6]
Wlavras Prison
It is a giant fortress prison located underneath Walter Park that designs as the primary energy for the amusement park to work, as they need a huge amount of magic power for the park to fully operate. In this case, they use the prisoner's magic and then it amplifies above.[7]
Noisy Forest
A vast and outspread forest which the Valac Family's house is located. Its unique topography only allows the members of the family or being accompanied by them to enter the forest and directly to their residence. Otherwise, any trespassers will be lost. Areas in the forest includes a small pond, Pokasuka Hill, and Machomupekekon (assumingly a field full of crops), which the Valac Family uses on their behalf.[8]
Magical Street
A shopping district, located near rightmost of a wide plateau of Sullivan's household, where it is usually a place where everyone buys goods, as well as where the Babyls Teacher's dorms are, with some parks and black markets as well. Some of the places include a menswear shop, bookshop where essential spells and legend of kami-jin are bought, pet shops, stationary and confectionery shops. [9]
Valhalla
Valhalla is a underworld club, specifically a place for adults to gather and fool around. It is one of the shady places in the demon world that can be easily swayed of on money, on which where a demon instead of money can made as payment.[10]
References
Community content is available under
CC-BY-SA
unless otherwise noted.