ARTICLE STUB

This article contains either very little or not enough information. As such, it is a stub. If you know any relevant details that aren't listed here, please

help out

by adding them to this page. The wiki very much appreciates your input!

Iruma Suzuki (鈴木・入間 Suzuki Iruma?) is the main protagonist of Mairimashita! Iruma-kun. He is a 15 year-old human who was sold to a demon by his parents. Now living in the Demon World, he goes to a demon school and has to hide the fact that he is human. Iruma is one of the candidates to become the next demon king.
Appearance
Iruma has blue spiky slightly long hair and is known for having his trademark cowlick. He tends to tie his hair up into a short ponytail when doing physical activities and when he was working in the student council.
He has Egyptian blue eyes and constantly seen with an impeachable face.
He is usually seen wearing the traditional school uniform of the Babyls Demon School, which is an Olympic blue-colored suit with a stripe of white around the collar on the sleeves, a red demon-eyed shaped bow, Olympian blue pants and dark blue dress shoes. He also wears the golden Ring of Gluttony on his right hand.[7]
On some occasions, Iruma ties up his hair in a ponytail, mostly when he has to do vigorous activities such as practicing for Cannonball Execution, being in the student council, or participating in the Harvest Festival.
When in his "Wicked Phase", Iruma's hair and eyes gain a slight shade of purple added to the usual blue and his eyes become narrow. His school blazer acts like a cape and lacks the red bow and has the top button of his shirt undone. His hair even becomes smoother and doesn't stick up. His ahoge even becomes reversed with the tip now pointing backwards. His pupils even become slit and his voice becomes deeper.
During the Music festival, Iruma's nails were painted with dark nail polish, and since that arc their nails have remained that color.
Before his second year at Bablys, Iruma receives a feather earring from his mentor, Babartos for reaching rank Hé (5).
Personality
Because he spent so much time by himself in a hard and lonely education, Iruma is kind-hearted and doesn't like conflict. He cannot say no when people ask for favors, being especially weak to the phrases: "Help", "Please" and "I beg you". His upbringing also helped him develop a great defense, allowing him to dodge any attack aimed at him. He is a large eater, having starved most of his life and having little time to even enjoy the food he ate in the human world. He is pacifistic and dislikes using violence to solve problems, even against people who are antagonistic towards him. However, when he faces a difficult task, rather than fall into despair, he manages to pick himself up and find a good solution. His kind nature even extends to everyone in need of help or asking for one, as it is revealed that most of the faculty adore him as he often helps them with chores such as weeding.[8]
Since entering the Netherworld, Iruma has constantly made an effort to not draw attention to himself out of fear others would devour him. Ironically, this has become impossible thanks to his grandfather, Opera, Alice, and him getting into various situations that make him stand out. Since then, he continues to grow more popular as the series progresses. All his efforts to survive also take a toll on him and use all his energy every day to survive. Over time he begins to lessen his guard in school and around his friends, learning to interact with others and (ironically) grow accustomed to the netherworld.
Because of his hard lifestyle, till he met Sullivan, Iruma never had a goal or ambition in his life. Because of that, he never attempted to do anything for himself and always did things for others out of a need to be useful to others. After meeting Azazel Ameri and learning to make a goal for himself, he decided to raise his rank in his class in an effort to better himself. After the Walter Park incident, Iruma decided his ambition is now to keep those close to him safe and better himself as a fighter.
Despite being male, Iruma has shown to have some traditionally girly hobbies which have surprised several characters. In his interactions with Valac Clara, he was more than willing to play any bizarre game she came up with or dress funny for her amusement. When he met Ameri and learned of her manga First Love Memories, he loved the books and was more than willing to read them to her and voice the characters. When he saw that Crocell Kerori was an Akudol, Iruma chose to put on a dress and wig to help her in her concert so she would not lose her fans (though he was later shown to be embarrassed from doing that, showing even Iruma has a limit to what he'll do). He was embarrassed to wear a dress when Kerori made him put it on again and even more when Ameri walked in seeing him wearing one despite trying to explain what had happened.
Having been abused, neglected, and unfairly treated by his parents his whole life, Iruma has a hard time understanding concepts of love and affection. Because of this, he remains oblivious of the newfound love and affection he has gained from Ameri despite her change in behavior around him, the speculated crushes that Clara and Kerori have on him, and the other female students in school when he was in his wicked phase. Although he does seem to acknowledge the genuine love and affection his adopted Grandfather gives him, he fails to see how Ameri remains shy in his presence, when they were alone on a balcony talking, on a date at the Aquarium, or when they were cooking together and she gave him cookies.
After Arikured induced an evil cycle and personality alteration into Iruma, his entire persona and appearance changed. In this case, he becomes aggressive and ill-mannered, ordering Alice around like a servant and having Clara sit on his lap whenever he feels like it. He also proved to be charismatic and manipulative at the same time but with good intentions as he managed to motivate the Abnormal Class to help him obtain Royal One for them by entering a battle of wits with Naberius Kalego and the other teachers to receive their permission for a new classroom change. He is more haughty, arrogant, and confident in himself but simultaneously, does not belittle others and respects the individual abilities of each of his classmates, even managing to use them to their greatest potential. Most importantly, his personality change did not extend to his inner kindness, as he wanted to improve the situation of his own class, who had the worst classroom and were treated poorly by the others and still helped the janitor and other faculty with their chores just as he had done previously. Iruma reverts shortly after obtaining Royal One.[9]
History
Prior to the main story line, Iruma lived with his carefree parents who took advantage of his kind nature to do all sorts of things, from doing all kinds of household work to partaking high-risk part-time jobs so that his parents can take it easy. Due to the fact that he was not properly taken care of by his parents, he has not undergone any form of formal schooling prior to his enrollment at Babyls.
His harsh experiences in the first 14-years of his life, such as the various dangerous part-time jobs he does has allowed him to develop certain abilities such as his "Overwhelming Crisis Evasion Capability", "Extreme Appetite", and the "High Survival Mode Iruma".
Story Overview
Introduction Arc
Iruma's ill-bearing parents had summoned a demon, named Lord Sullivan who requests a contract for money in exchange for a human. So without hesitation they bartered off Iruma to him. After being sold, Iruma fears for his life, until the demon presents him with expensive food and clothes, and explains the real reason he bought him. Lord Sullivan explains that he never got married or had children, but desperately wants a grandson, because his friends always boast about their grandchildren. Iruma tries to refuse, but is swayed by Sullivan's begging, and agrees, stamping a contract. Sullivan hints that, if Iruma had refused, he may have simply eaten him instead.[10]
Lord Sullivan declares that he will spoil Iruma and provide him with the best of everything. However, that also means that he will have to go to school, especially since Iruma never had time for proper study after living such a difficult life, and dragged around by his selfish parents. Iruma is given a uniform (which marks as his trademark outfit) and enrolled at Babyls Demon School; he learns that he is the first human to enroll, and that he has to keep his real identity secret, lest he be eaten by demons.[11]
Iruma arrives at orientation and learns that Lord Sullivan is, in fact, the Principal of the demon school. In his pride for his grandson, Lord Sullivan boasts about him on stage, to Iruma's horror, and even presents a poster. He then removes the Freshman representative, Asmodeus Alice, from the stage and declares that Iruma will instead make the speech.
Iruma's terrified demeanor is mistaken for confidence by the students; once on stage, he decides to read the words prepared for him on a piece of paper on the podium, in lieu of a speech. This causes an uproar, and it is revealed it was a forbidden spell that would have blown his limbs off if mispronounced. It is revealed that the effect of the spell is that he will not fall at all, no matter what, for the entire day.
The freshman representative Alice Asmodeus challenges Iruma to a duel immediately after the orientation and summons the student body to watch the fight. Due to his difficult and crazy life, however, it is revealed that Iruma can dodge anything, and has "0 attack, infinity defense. For better or worse, a completely harmless person." Iruma dodges Asmodeus' fire magic for 20 minutes, before tackling him to save a nearby student. The effects of the spell from earlier activate to stop him falling, and Iruma defeats Asmodeus in an accidental German suplex.
Iruma becomes the most talked about 'demon' in the school, and later Asmodeous arrives to congratulate Iruma on his victory. As per demon custom, he now follows Iruma and serves under him. He swears they will dominate the school together, to Iruma's surprise.
Iruma begins his first day at school, and attempts to tell Lord Sullivan that he doesn't want to go to Demon School because he's scared of being eaten. He is unable to, however, as he is showered in gifts and praise, and feels too bad ruining such a happy atmosphere. The demon servant, Opera, is passively introduced in the background, bringing gifts. Attending school, he is greeted cheerfully by Asmodeus, and told the first lesson of the day was summoning a familiar, and that a students rank will be determining by measuring its strength.
Naberius Callego enters, and announces himself the teacher of the class, and quickly explains how to summon a familiar, including that a familiar cannot harm its master. He makes it clear that he believes Iruma is relying on the nepotism of his 'grandpa', the principal. He plots to expel Iruma the moment he makes any mistake in the summoning ceremony as revenge. Unknown to him, Iruma also plans to mess up the summoning due to his lack of magic, and hopefully get himself expelled without confrontation.
However, as the summoning ceremony for a demon summoning a familiar and a human summoning a demon for contract are the same, Iruma accidentally summons his teacher, Naberius Callego, and forms a contract, turning him into a tiny chick-like appearance. Later, Lord Sullivan reveals the contract will last until the end of school year, and ending it prematurely will cause both of them to die.
Next day, Iruma and Asmodeus are walking down the hallway after collecting their class lists and materials for the year, when a demon rolls past them at a high speed, crashing into a pillar, and destroying it. Iruma is concerned, and goes to check on them, meeting Clara Valac. Asmodeus issues a warning not to talk to her, that goes unheeded.
Clara is unharmed and delighted to have a new person to play with, startling Iruma with her enthusiasm. She introduces her right foot as Connor, and her left foot as Murph, before enthusiastically inviting Iruma to watch her crash into more columns. Asmodeus explains that Clara is an eccentric demon, and that people avoid her because she will get them into trouble. However, Iruma finds himself dragged into her antics immediately, unable to refuse and swept along with her fast pace. The three play house for two hours straight, leaving the two boys exhausted. Clara offers them snacks and drinks, and introduces her inherited magic; she can create anything she's ever seen before.
Iruma (and Asmodeus, reluctantly) continue playing with her for several more days. Clara seems extremely happy, humming and laughing as she goes to meet with her new friends every day. Once Clara meets up with Iruma again a few days after, she begins to shower him with snacks, drinks, and whatever she can conjure, saying she'll give Iruma anything only if he keeps playing with her.
Iruma quickly refuses the gifts and apologizes. Clara, panicking, begins to cry. She explains that the snacks are her 'nuisance fee' and that Iruma would leave her like everyone else, now that he's bored. Iruma explains that he doesn't need the snacks, and that he'll keep playing with her anyway, because playing with Clara is fun. He explains that Clara does go overboard sometimes, but he doesn't mind because he's not used to playing. Clara begins to laugh and cry, happy someone wants to continue playing with her even without being bribed.
Yocchan and his friends descended from the stairs and appears to them, demanding drinks from Clara, sneering. Clara instead summons an entire vending machine, crushing the leading demon beneath it, telling them to insert some coins if they want anything. Iruma covertly asks Asmodeus to make sure no one else will take advantage of Clara again, which he does so (though the burns on his coat contradict his assertion).
Asmodeus and Clara come to pick up Iruma in the morning on their way to school. Lord Sullivan comments that he's happy that Iruma has managed to make two new friends so quickly. Iruma freezes, initially denying being friends, and even questioning if demons and humans can even be friends to begin with. It is also revealed that Iruma has never made a friend before, and doesn't know how one should go about making them.
Iruma continues to stress about the philosophy of friendship over lunch, where the menu board is explained. Students can order food for free, and the quality you can order depends on your rank. There is also a shop with better quality food and items for sale in the cafeteria. Someone attempts to play a mean prank on the three, ordering enough food for 50 people and sending it to Iruma and co.'s table. Asmodeus is furious, and turns to tell Iruma to send the food back, only to realize that somehow, Iruma had eaten all of it. In addition, he asks for more continuously, and a waiter exclaims that the chef had fainted, presumably under the stress of making so much food.
A commotion occurs, where the shop owner, Camu Camu, attempts to arrest Clara. He warns that anyone who shoplifts from his store will be pieced by his spear. Kalego enters the cafeteria, back from his short absence. He demands to know what the ruckus is, before spotting Iruma. He growls, and warns Iruma that he'll never be his familiar, and that if Iruma thinks he can chain him up, he'll kill him. He suddenly spots Clara standing next to Asmodeus and Iruma and notes with fear that their numbers have increased. Clara rushes forward, introducing herself and rambling about her friends, and attempting to give him chocolate.
Kalego panics, realizing she is the hardest type for him to handle, and attempts to flee. Clara grabs on to him, and instructs Iruma to put a nearby seal on his hand, which turns Kalego back into his chick form, which Clara attempts to catch. Camu Camu attacks all of them, causing Iruma, Clara and Asmodeus to flee, leaving Kalego to pay for the seal in his chick form, as it was apparently taken from the shop.
Iruma realizes how much fun he has with Clara and Asmodeus, and asks them nervously if they want to be his friends. They express confusion at first, as friendship is apparently not a concept in the Demon World, but once Iruma explains, they readily agree. Iruma then declares they are his Number 1 and Number 2 friends, which Clara and Asmodeus begin to bicker over who is who.
One day, Iruma off-handedly mentions that he doesn't want to be noticed at school anymore to his demonic guardian Lord Sullivan. This leads to the creation of the Abnormal Class - a class for strange students, who like to attract attention, so that Iruma can resist standing out while the rest of class will.
Iruma arrives alongside his friends, Alice and Clara, outside a massive classroom door. He opens the door, only to find a number of deadly weapons flying right for his face. Iruma stumbles into the classroom, somehow dodging every single one of the dozens of deadly weapons being aimed his way. He receives a round of applause, and finds that the class was making bets on the number of weapons new students would be impaled with upon entering the classroom. Iruma was the only one to dodge every weapon.
He soon learns of a student even stranger than most of the abnormal class - a demon who refused to dodge a single weapon, taking them all head on in a show of strength. Sabnock Sabro is introduced, with swords sticking out of his body. He declares that he is the most suitable candidate for the role of Demon King, a dream he will achieve by reaching rank Yod. The Demon Ranking System is introduced, with Yod being the topmost rank, and Aleph the lowest. Sabnock also mentions that the quickest way to the top was to defeat strong opponents. He confronts Iruma, and questions Iruma's status as a genuine demon, before Asmodeus steps in. The two argue, with Asmodeus declaring his position as Iruma's friend.
Before it can escalate, the teacher - revealed to be Naberius Kalego - arrives, and instructs everyone outside for the very first ranking test. The test is a race through Saezuri Valley - full of countless huge mountains. They are banned from entering Kanakiri valley, as they did not receive permission to enter. The signal to begin the race happens as Kalego - along with the rest of the student body - suddenly grow wings, leaving Iruma panicked and as soon as the class takes off, Iruma teeters at the edge of a cliff. He wavers, but keeps his balance until he is suddenly kicked over the edge by his own teacher.
Moments after, Iruma is caught in the beak of a giant demonic bird. He was caught after falling off the cliff. He is deposited into a gigantic nest, where he is attacked by a gigantic chick, which attempts to eat him. While being chased, Iruma notices the chick collapsing behind him. He investigates and finds a gash on the monster's leg. He quickly resolves to help, and grabs a stone shard. He quickly cuts his hand, and shows it to the monster, before bandaging it. The monster understands, offering the injured leg. Before he can bandage it, however, Iruma's blood drips into the wound, healing it to the shock of both parties. The monster tests its leg by standing, and Iruma smiles in relief. Disregarding its initial plan to eat him, the monster nuzzles up close in thanks, before indicating for Iruma to climb on his back.
In the event of Sabnock almost being beaten and eaten by the guardian bird, Iruma appears from above, throwing himself in front of Sabnock. Right as the King's claw is about to reach Iruma, it pauses, as the monster Iruma helped hovers in front of it. Sabnock reveals that this is the chick belonging to the King of the Valley, and prepares to take advantage of the distraction to launch a devastating blow. Instead, Iruma signals to the King, waving and telling him that the chick's leg was all healed. He convinced Sabnock to lower his weapons as well. The leader bows, thanking them to Sabnock's shock. He thinks to himself that Iruma is someone special.
Once the race is over, the Ranking Owl is introduced. Though Iruma and Sabnock made it back with the help of the King, they didn't make it back in time, and were disqualified. Sabnock thanks Iruma for saving him, and declares Iruma his rival. One by one, students reach into the Ranking Owls' feather and pull out a ranking badge. Eventually it is Iruma's turn. He reaches into the owl, but it screeches and flies away without giving him a badge, and in the end he had received a peculiar ring that fits in the prophecy.
He requests help from the other students, but they quickly back away in fear as he approaches. Iruma is initially confused, before he catches sight of a menacing shadow residing on his shoulder. He panics, and realizes it is coming from the ring on his hand. The shadow begins to scream, the wailing echoing throughout the entire school. Only Iruma is unaffected, as the rest of the student body collapses in pain. He attempts to silence the creature, but instead cradles it in his arms and accidentally rocks it to sleep.
It quickly awakes, and Sabnock approaches, claiming that dealing with the creature will be a piece of cake. However a single touch to his nose is enough to to knock the demon out, collapsing where he stands. Next, Alice approaches, but with the same result. It is revealed that the creature is draining their magical energy. Kalego attempts to remove the ring, but is met with a powerful hallucination; the image of the creature ripping off his arm in a violent manner flashes before his eyes. He withdraws, shaken, realizing he it was given a warning. He decides to exterminate the creature, possible along with Iruma (or his arm), before being stopped by the Lord Sullivan.
The creature attacks, but Sullivan subdues it with a single tap, the ravenous hunger of the ring stopped in an instant. The ring is revealed to be called "The Ring of Gluttony", a powerful magic tool that can act as an artificial mana pool, but indiscriminately devours magical power from the demons around it. Hunger sated, however, it was now harmless, if irremovable from Iruma's hand.
Without a rank from the ranking owl, Iruma is given the rank of 1 (Aleph). Finally satisfied that he's finally received a reasonable evaluation, he leaves class unaware that even more exaggerated rumors of his adventures in Karakiri Valley begin to circulate.
Execution Cannonball Arc
Abilities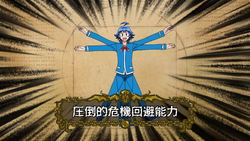 Overwhelming Crisis Evasion Capability (圧倒的危機回避能力): Due to his tragic childhood life, he developed an incredible sense of danger. His body will automatically avoid danger no matter the scale. This is the ultimate defense mechanism that is almost impossible to hit him with any attack since he will automatically dodge it. He can compensate for his non-existent offensive abilities by turning his attacker's moves against him (mostly a consequence of trying to face danger, rather than a voluntary counter). He can use his opponent's strength to parry their attacks as well.[12] Iruma has used this decent number of times since entering the Demon Realm; initially during his fight with Alice, then throughout the series.
Human Blood: Iruma's blood has the ability to heal external wounds almost instantaneously, whether it may be a large or a small injury. When his blood contacts any demonkind, it evaporates and closes up any graze while it glows and glitters light blue at the same time.[13] Aside from its healing capacity, Iruma's blood also has the power to instantaneously make plants grow in a massive state. A few amounts would be enough to put the plant in such a size.[14] It is unknown whether it is exclusive to Iruma's blood or human blood in general, but in a theory, this has something to do with why Demons supposedly eat Human flesh or the Demon King's Prophecy.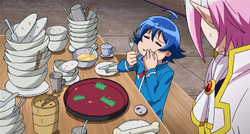 Extreme Appetite: As a result of living with his deadbeat parents, he has become the kind of person to eat as much as he can whenever he is given the opportunity and possesses an appetite far beyond anything natural. Iruma will never be picky whether the food is average or exquisite, as long as it is a standard edible food. He has been seen eating mountains of food and gobbles them up faster than normal. Not even a single demon can compare Iruma's ability to eat a great quantity of sustenance. His appetite even surpasses the the Glutton Lord of the 13 Crowns, Behemolt. The peak of his hunger is fully demonstrated during the dinner with the 13 Crowns, where he is the only person ever in the history of the demon world to ask for seconds.
Anti-Knock Over Spell: Iruma was able to chant this spell on his own, successfully, that he was won't trip or fall on a single day. The spell is said to be taboo that if Iruma stutters or is not mentioned properly, that person will blow into pieces. If Iruma ever closes to being fall over, the spell will activate and causes large spark and smokes. Its full incantation is Aberuhauke Tarutoudari Isabebe Risutouru Aburuze Sutoumanu Aberuge Uru Mahoraba Tsurezaza. This marked the first case of verbal magic Iruma had ever used.[15]
High Survival Mode Iruma: Having a hard harsh life in his 14 years, Iruma experienced many hardships because of his carefree, irresponsible parents, and always had to fight to survive wherever he lived. Because of this, his instincts tell him the best way to live in dangerous situations and overcome anything as long as to survive. In this mode, his fighting spirit heightened for his belief, which is in order to survive, one must change themselves-- and must become the creatures who were born in the place they are trying to survive. Once Iruma participated in the Harvest Festival, this mode resurfaces and uses it on a whim.[16]
Archery: In order to get everyone in the Misfit class to get to Rank "Daleth" (4) before the second year, Iruma gets tutored by Bachiko Barbatos in the art of archery to prepare for the harvest festival and had gained a skill to use a bow and an arrow.
Equipment
To see the complete record of Iruma's spells under the power of the Ring, see Used Spells.

Magic Emulation: Ring of Gluttony: Iruma is capable of replicating magic by channeling Sullivan's energy stored in the Ring of Gluttony. While powerful, the Ring has a finite pool of energy, so Iruma needs to be careful with its usage or the Ring will go berserk from hunger, draining the energy of those around him. Because of the massive amount of magic stored inside the ring and can release them with that same amount, Sullivan caps and nerfs this by having an option to control the magic amount of the ring used.
Familiar-Summoning Sticker: Iruma had used this item several times in order for him to summon his supposed familiar, Naberius Kalego. Since Iruma doesn't have demon magic, and familiars are summoned verbally and at will by demons, the only way he is able to request the presence of his familiar is through the use of the sticker.[20]
Uniforms: Iruma had few different clothes used throughout the series and varies depending on events and circumstances.

School Uniform: Iruma wears an Olympic blue-colored suit with a stripe of white around the collar on the sleeves, a red demon-eyed shaped bow, and Olympian blue pants. He also wears dark blue dress shoes on his feet. Underneath his blazer, he wears a white T-shirt.
Student Council attire: Iruma wears a black and red suit similar to what the other members of the student council.
Harvest Festival Uniform: Iruma wears a light green/blue tracksuit with a feather styled bow and black boots. He also wears a pair of purple gloves with the right-handed glove having the middle finger exposed to better fit the Gluttoness Feeder Ring.
Winter Uniform: Iruma wears a thick dress coat with gloves on his hands and a white scarf around his neck.
Bow: Iruma gains this weapon from Bachiko Barbatos as a means to protect his friends and better himself as a fighter. With the core being a feather from the Guardian of Cutthroat Valley, Iruma mutters the spell "Quartz Quartz" to transform the feather into a black bow.
Detection warding glasses: A pair of glasses that deter the attention away from the wearer. Iruma uses a pair whenever he goes shopping with either his grandfather or Asmodeus. He also starts wearing them to school at of the start of his second year.
Relationships
Asmodeus (or Azu-kun, as Iruma calls him) was initially antagonistic before Iruma beat him in a duel. Impressed by Iruma's abilities, and even more touched at Iruma's kindness in carrying him to the infirmary, he pledges himself entirely to Iruma. Asmodeus tends to act in a servile manner towards Iruma, showing utmost respect and doing whatever he can to please Iruma. He will also not hesitate to attack anyone who insults Iruma and is even willing to do things he does not like (such as using his fire magic) in order to accomplish a task Iruma has laid for him. In spite of this, Asmodeus seems to take Iruma's explanation of friendship to heart, and as time goes on, his attitude becomes less servile and more extremely doting and supportive. Asmodeus often berates himself harshly for failing to understand Iruma's feelings and intentions, showing that he cares deeply about making Iruma genuinely happy. Unbeknownst to Iruma, Asmodeus's life's ambition is to become Iruma's "indestructible spear" and to help Iruma become demon king with Asmodeus by his side. "Iruma" is also Asmodeus's special word to come down from his wicked phase, a word that Balam says must resonate in the heart of the person who hears it and touch their very core.
To Iruma, Asmodeus is his first friend and one of his best friends. While Iruma feels he can act a little too servile, he deeply treasures their friendship and is more than willing to rely on Asmodeus for help. Asmodeus nearly dying in Walter Park is also what makes Iruma realize his own life's ambition of being able to "save everything" and protect not only himself in dangerous situations, but everything precious to him as well, namely Asmodeus, who follows him into danger without hesitation. Asmodeus is also one of the people who appears in Iruma's hallucination in the Harvest Festival.
When Iruma enters his wicked phase, he does begin to boss Asmodeus around and call him "Alice." Rather than get mad, however, Asmodeus is delighted that Iruma is acting more like a proper demon (and flustered at the use of his first name) but still believes that the normal Iruma is superior. 
Clara is Iruma's second best friend. She is bombastic and energetic, but, due to her unique skill 'Dimensional Pocket', she is often taken advantage of by other demons, who ask for items in return for playing with her. They became friends after Iruma told her that he didn't need to receive the 'nuisance fee' other demons often asked for, as he enjoyed playing with her anyway. She becomes extremely happy upon hearing this, as he is the first person to genuinely want to be her friend and the first to ask to play with her rather than her asking.
When Clara takes a 'Seduction' class, which ends in a scene suggesting a growing romance between the two. She has shown romantic affection for him, even blushing when Iruma (while he is in his wicked phase) ordered her to sit on his lap. She also showed jealousy towards his growing friendship with the student council president.[21]
The demon that purchased Iruma Suzuki. Upon meeting him, Lord Sullivan immediately begged Iruma to become his grandson, as he didn't have one to brag about. Due to his inability to turn down any request, Iruma agreed. Lord Sullivan is also the Principal of Babyls, the demon school Iruma attends. The relationship between the two was initially a little awkward, as Iruma felt he was somewhat coerced into his position. However, the two eventually become quite close, with Iruma beginning to call Lord Sullivan oji-san or grandpa , and displays visible affection and care towards him. Sullivan is seen to be very protective and fond of spoiling Iruma with game consoles, lavish food, clothes, and private lessons and Iruma is more than grateful for his treatment and doesn't let it go to his head, to the point where he questions if he truly wants to go back to the human world (as he has friends and a loving family in the demon world while his own rotten parents were scum who abused, used him, made him work for money to support them simply because they themselves didn't want to work, and then sold him off for money). At times Lord Sullivan does a few things that put Iruma's life in danger such as have him read a spell for the introduction ceremony that if read wrong could've made him explode though it seems to be more carelessness and lack of long term thinking on Lord Sullivan's part than any malicious intention. However, it is evident Lord Sullivan does love Iruma genuinely, even becoming worried for Iruma when he stopped acting polite after he entered his wicked phase and was grateful to have the kind polite Iruma back. Interestingly, Opera asks Lord Sullivan why he adopted a human child (it is possible Lord Sullivan could've instead easily adopted a demon as his child) but Lord Sullivan dodges the question, stating time would tell so some of his deeper intentions are not yet fully revealed.
The Student Council president, and a friend of Iruma's. Ameri is one of the few demons besides Lord Sullivan, Opera and Balam Sicirue who is aware that Iruma is a human at Babyls, deducing his identity using previous knowledge that humans exist. She keeps his secret, however, as Iruma is able to read
First Love Memories
; a typical Shoujo-style romance manga she enjoys. She often drags him away to translate these books for her, usually verbally. Over time, they build more trust and Ameri shows him more familiarity when they interact. Overtime she begins to show a romantic interest in Iruma mistaking several outings as dates. When she is hit with a spell that causes her to turn docile and makes her incompetent for her position, Iruma is the one who helps her recover her original personality, telling her that she is not herself without her ambition and that everyone trusts her and would not abandon her. He also admits to having a deep respect for her as a person which motivates her to return to herself in time for a re-election that would've cost her her position. It is after this point that she realizes she is in love with Iruma. At the Deviculum, Iruma askes her for a dance, after being told by Opera it is the etiquette for demons despite not knowing how to dance. After Ameri teaches him and they dance together, Iruma confesses he admires her for being the one who shows him "Ambition" and wants to get closer to her. Ameri replies she feels the same and hugs him, which causes Iruma to blush heavily hinting he may have started to develop an attraction towards her.
Despite her feelings, she does not let it interfere with her duties as Student Council president, as Iruma at one point approaches her for support in his plan to have the Abnormal Class assigned to the Royal One room, and she asks for his reason as she wouldn't support such a change without first hearing his side and reasons.
A teacher at Babyls, and a demon summoned by Iruma, believed to be his 'familiar'. The two don't have a pleasant relationship, though it is by no means antagonistic. Kalego, when summoned, takes the form of a small chick, which he thinks is insulting. This is compounded by the fact that his summoner is a freshman student, and initially just an Aleph. He treats Iruma coldly and can be seen holding a grudge against both him and his 'grandpa', Lord Sullivan. As a result, he does act against Iruma, such as refusing to change the classroom of the Abnormal class (which is in far worse condition than any other classroom) and giving them an impossible task of getting the signature of the faculty in order to receive a new room. When they complete the task, he finds a loophole and tells them he meant every person working, not just the teachers (including the janitors, cafeteria people, etc) proving to have made an unfair proposal and claiming (against their opposition) though Iruma's kindness allowed him to get the remaining signatures easily and Kalego was bested. Kalego did show at least some willingness to compromise before he discovered he had lost, as he was willing to have their original classroom fixed instead, implying that his dislike towards Iruma does not extend to irrational hatred.
As Sullivan's butler, they also know that Iruma is a human. Like Sullivan, they also pamper Iruma, but are strict with him when practicing. They often go out of their way to ensure that Iruma has a good time with his friends and feel affection when Iruma goes home. They can get angry at those talking bad about Iruma, with Kalego usually being the victim. Opera's ears perk up whenever Iruma expresses his love for his new family.
The Demon World History teacher, he was the one who helped Iruma prepare for the exam to pass "Test of The End". Due to his gentle nature, he caught Iruma off guard and actively revealed himself as a human to let him know. Unlike his friend, Naberius Kalego, Shichiro treats Iruma very kindly.
A relative to Bars Robin, she is Iruma's archery tutor. She instructs him how to properly manifest and shoot the arrow. In the beginning, she treats Iruma like a servant, demanding him to do chores and run errands. Due to never successfully trained her ex-students and they all quitted after deeming learning archery impossible, Bachiko abandons any hope of raising a student. However, seeing Iruma's enthusiasm and determination, she decides to take his training seriously. While training, she continuously pushes him into dangerous situations to sharpen his senses to the limit. Bachiko teaches him that the most important aspect of being an archer is the ability to quickly make the decision, as a moment of hesitation on the battlefield will lead to death.
Bachiko is very proud of Iruma. This is shown during the Harvest Festival when General Furfur says that Iruma-team should just give up, Bachiko grabs him and yells that Iruma is better than that. Despite the rough treatment, she genuinely cares for Iruma as he is her precious student even after finding out he's a human.
His Parents
During his life in the human world, Iruma was treated poorly by his mother and father. They gave him multiple tasks to perform from when he was only a baby. In the first 14 years of his life, Iruma's parents forced him to do obscure and dangerous jobs so that they could have money. Iruma had to learn to fend for himself as his parents abused and neglected him.
His Middle-school friends:
In one of the flashbacks that Iruma has about his time back on the human world, it is shown that his middle school friends are no different then his parents, they also took advantage of Iruma's kind nature and tells him to do all the class's chores while they head off to have some fun.
Trivia
As to how much Iruma's parents got for Iruma, it is unknown, but it is more than enough, in the manga, to buy a bottle of Dom Perignon, which cost per bottle, from for a Dom Perignon Vintage $191 to for a Dom Perignon Rose $343. Being Iruma's parents, it would be more than likely that they bought, at least a case of Dom Perignon.
He is the only human who can collaborate with demons and is the sole summoner of demons instead of familiars.
The Japanese spelling of the name "Iruma" (入間) is almost identical to the Japanese spelling of "human" (人間).
The demons who know that Iruma is human are Lord Sullivan, Opera, Azazel Ameri, Balam Sicirue, and Barbatos Bachiko as well as antagonists Ami Kirio and Baal.

Azazel Henri thinks that Iruma is human, but isn't sure.

At Babyls, he is registered without his surname. And instead of his Kanji name, his Katakana name is used (イルマ).
Iruma is considered as the leader of the abnormal class of his classmates because of all his triumphs, as well as (or especially) during his Wicked Phase, of which they took the Royal One, and the challenging moments when at Walter Park.
Iruma is seen as a bit of a seducer by the boys in the abnormal class. This is due to him having very good relationships with multiple girls around him.
Until now, Iruma appears in all of the manga volume covers.
Osamu refers Iruma as '悪入間 (Evil Iruma or Irumean) when depicted on his wicked phase form.[22]
Osamu had made an artwork with Iruma's appearance as a demon on the day of the Devil (6th of June).[23][24]
Osamu announces Iruma's birthday as October 4th .
References