ARTICLE STUB

This article contains either very little or not enough information. As such, it is a stub. If you know any relevant details that aren't listed here, please

help out

by adding them to this page. The wiki very much appreciates your input!
Sullivan is the adoptive grandfather of Iruma and the principal of the Babyls Demon School. He is one of the Three Heroes, the most powerful and influential demons in society, and is a possible candidate for the new Demon King.
Appearance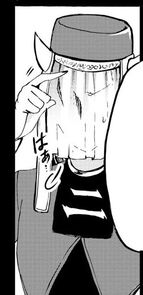 Sullivan is a towering tall and imposing figure with a bald head, save for two large yellow horns on the side of his head. He has pointed ears, a large nose, and a white handlebar mustache. He wears a pair of glasses that sits at the top of his nose, and it always obscures his eyes, despite them being tiny. The only exception to this is when his eyes are closed. His fingernails are long and are painted a dark purple.
He wears a dark purple suit with long coattails and a white-furred collar with what appears to be the skull of a large bird in place of a tie or bowtie.

Personality
Sullivan usually appears as just a silly old man. He is impulsive, irresponsible, and prone to excessive emotional reactions. In addition, he also seems to not notice how the people around him respond to his decisions, such as his interactions with Kalego, his employee. It is hard to tell whether he is just oblivious or intentional with his behaviors. Sometimes the situations Iruma gets in because of him are embarrassing or even dangerous, but he never means any harm.
One of Sullivan's bad habits is the tendency to spoil his charges rotten. He is constantly doting on his adopted grandson, constantly buying him many things and fussing over him restlessly. When Iruma was returned after being away from home several days for training in the Student Council, Sullivan was happily in tears and threw parties every day for the rest of the week. He also wants to look cool and dependable in front of Iruma and his friends, even though he is probably the most powerful Demon in the Underworld as of the present.
Though he seems mostly happy-go-lucky, Sullivan's high standing is well earned. He has demonstrated his power and knowledge plenty of times, both as a principal and a grandfather. His insights and advice can prove to be very helpful at times. Despite his seemingly benevolent disposition, he does on occasion reveal a more menacing side to his personality, which startles whoever is around him.[1]
He mentioned that he was ready to eat Iruma if he refused to become his grandson.[2],yet with his personality, it is difficult to tell if he truly meant it or not.
Although he often acts in a silly and childish manner, Sullivan can be an outstanding leading figure and orator. His charisma and rhetoric managed to charm most of the Thirteen Crowns into accepting his proposal regarding the selection of the new Demon King. However, previously many of the Crowns were, explicitly or not, unhappy with the idea.
It's implied that while adopting Iruma was out of his desire to have a grandson to stop missing out on the Three Heroes' grandson discussions. Sullivan actually has other motives for sending the boy to a school for Demons. The latest Thirteen Dinner seemed to indicate that Sullivan thought Iruma was a suitable candidate to become the next Demon King.
Background
Barely anything about Sullivan's past is known at this point, however, it's known that he is one of only three demons alive (Lady Levi, Lord Belial, and himself) to have reached or had the potential to reach the rank of Yodh. This puts him in the position of possibly being able to inherit the throne as Demon King (or Demon Lord).
A few hundred years ago, when the Demon King Derkila was not missing, Sullivan was a subordinate serving Delkira, the relationship of both seemed very close.
Story Overview
Relationships
A human child that Sullivan adopted as his grandson, out of loneliness and envy. Sullivan allowed himself to be summoned by a pair of humans in the human world, making a deal for Iruma in exchange for money. He's very affectionate and caring towards him, despite being different species, not blood-related (and kidnapping him). He has a hard time refusing anything Iruma asks for, and often spoils, pampers, and showers him in gifts.
Although normally doting, Sullivan has been shown to care greatly for Iruma's wellbeing spraying him with demonic essence to make sure Iruma passes off as a demon. This is to prevent other demons to not eat him on sight. He does at times set clear lines regarding Iruma that are meant to help the boy grow as a person, develop more confidence in himself, and grow more accustomed to his new life. Although Sullivan will at times interfere if it is absolutely necessary for him to do so such as stopping Arikured when it first manifested.
Iruma's Evil Cycle is a source of great distress for Sullivan as the more rebellious Iruma is a stark contrast to the usually sweet boy. It reached the point where Sullivan tried to restore Iruma to normalcy by force if needed. This, however, was easily swayed by Iruma into signing a recommendation to transfer the Misfit Class into Royal One instead. Sullivan was left picking petals off flowers afterward.
Sullivan's right-hand demon, a servant who also works as a secretary of sorts. Opera lives in the same house as Sullivan and Iruma, managing the laundry, cooking, timetabling, and transport for the two of them. They have a master-servant relationship, with Sullivan relying heavily on Opera's abilities and advice to keep him on track and away from distractions.
The Three Heroes
In chapter 22, they get along well, although they bicker over who has the better grandchild.
Abilities
High Magic Capacity: Sullivan has incredible levels of magical power, in terms of both raw output and the amount of magic he possesses.
Teleportation: Sullivan has the ability to teleport.
Time Manipulation: Sullivan has the ability to either slow time to a standstill or to stop time, as he had done in the first episode of the anime. This was done so Iruma doesn't get hurt, and in the nineteenth episode which he stops the fireworks from falling into the school and changes the path outside the school area.
Gravity Manipulation: Lord Sullivan has the ability to manipulate the weight or force of gravity on an object or individual through the use of the spell Fractal.[3]
Trivia
Despite being a member of the Three Greats, Sullivan is not a Yodh-ranked demon. Lady Levi told him to "give up and rise to Yodh already", meaning that while he has enough potential to be at rank Yodh, however, he refuses to do so.
Because of Lord Sullivan's High Magic Capacity, he can sense when a high level is being cast, like when Kirio released the stored up energy of his pendent.
Lord Sullivan doesn't like eggplants.
In Chapters 93 and 163 of the manga, Amduscias hints that Sullivan may have been Derkila's right hand, or at the very least was extremely close to the man during Amduscias's time on the 13 Crowns.
References