ARTICLE STUB

This article contains either very little or not enough information. As such, it is a stub. If you know any relevant details that aren't listed here, please

help out

by adding them to this page. The wiki very much appreciates your input!
Sabnock Sabro is a demon under the Abnormal Class. He is know to be quite strong and passionate, and one of the few who actively pursue the title of Demon Lord.
Appearance
Personality
His aggravated personality to become the Demon King has influenced his overall nature. His pure intention to land on the throne is mainly because he can show everyone that's the coolest thing someone can be on the top, shows his immaturity and idiocy on plain-thinking. However, after his battle with the Valley's guardian and with Iruma's advice, his character development thoroughly improved, both mind and body as he is actually very intellectual and finds a common ground to his fellow demons.
History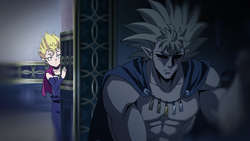 Sabro's main influence on becoming a Demon King triggered during his childhood days when he often saw his father, who is a blacksmith, endlessly making weapons. This caused Sabro to see his father as someone who never strives to be anything better and so he decided he didn't want to take the same path, thus attained such striving ambition.
Story Overview
Abilities
Weapon Creation: Sabnock's family's Bloodline Magic. Sabro can instantly forge a weapon out from nowhere that was manipulated from what he is currently biting. He mainly has three elements of metal encased as a necklace on his neck (which makes it easier for him to bite).[2]
Immense Durability: Sabro has a consistent strong skin that even though a lot of weapons hit and penetrated him, he can easily removes them with ease and without injuries.
Strong Strength: Sabro's masculine appearance shows his incredible strength, and he is shown being able to destroy metal weapons with his bare hands.
Equipment
Necklace: Sabro wears a necklace tied around his cape that critically serves as a function to summon his weapons based on his Weapon Creation Magic. The necklace has three metal tags, with each has different elements induced on it, which are copper, silver and gold.
Familiar
Kelpie: Sabro's familiar is a mutant-like beast that is named Kelbie. Its visual representation appears to be a mix of a horse and a fish, potentially enabling it to live in both land and waters. This green-colored familiar has two front limbs, two large fins across its back to act like wings and a long tail fin. It has a one large horn and appears to have several fangs attached on its mouth.[3]
Relationships
Trivia
In demonology, Sabnock from the Ars Goetia, Great Marquis of hell is known for building high towers, castles and cities, furnishing them with weapons, ammunition, etc
Reference
Community content is available under
CC-BY-SA
unless otherwise noted.