ARTICLE STUB

This article contains either very little or not enough information. As such, it is a stub. If you know any relevant details that aren't listed here, please

help out

by adding them to this page. The wiki very much appreciates your input!

Sabnock Sabro is a demon under the Abnormal Class. He is know to be quite strong and passionate, and one of the few who actively pursue the title of Demon King.
Appearance
Personality
His aggravated personality to become the Demon King has influenced his overall nature. His pure intention to land on the throne is mainly because he can show everyone that's the coolest thing someone can be on the top, shows his immaturity and idiocy on plain-thinking. However, after his battle with the Valley's guardian and with Iruma's advice, his character development thoroughly improved, both mind and body as he is actually very intellectual and finds common ground with his fellow demons.
History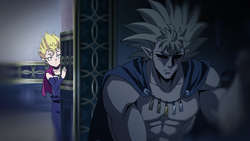 Sabro's main influence on becoming a Demon King was triggered during his childhood days when he often saw his father, who is a blacksmith, endlessly making weapons. This caused Sabro to see his father as someone who never strives to be anything better and so he decided he didn't want to take the same path, thus attained such striving ambition.
Synopsis
Babyls Enrollment Arc
During the first day of classes, Sabnock attacked Buer Blushenko, a teacher believing that such demonstrations of strength would allow him to easily rank up. This was eventually reported in the school newspaper and landed him in the Abnormal Class.
On the first official day of classes, he was hit with all the traps set by his classmates, demonstrating his strength, and remarking that someone worthy to be Demon King should not cowardly evade attacks.
In the class' first activity (flying race), Sabro defied Kalego by taking the Cutthroat Valley path which was explicitly forbidden by their teacher due to the erratic behavior of its guardian. This action by Sabro led to him almost dying in the hands of the Guardian of the Cutthroat Valley if it were not for Iruma's intervention. After the race, he thanked and acknowledged Iruma declaring them to be his proper rival. He was awarded the rank of Beth (2) by the Ranking Owl.
Battler Party Arc
During the Battler Group Exhibition, Sabro joined the Demon King Battlers, a Battler who conducts literature review and writes research papers exclusively on the Demon King, to which Sabro was genuinely excited and eager to do. During the main event of the Battler Party, he and his Battler prepared and presented a play on the life of Demon King Derkila in which he starred with the main role of the Demon King.
Royal One Acquisition Arc
When the Abnormal Class was trying to get the school to break the seal of the Royal One and allow them to use it as their classroom, Sabro was assigned to obtain the signature of Buer Blushenko, the teacher that he attacked the first day of classes. Initially, he was rejected by his teacher due to the assumption that Sabro would simply be picking another fight, however, Sabro instead bowed down and asked for forgiveness from his teacher for his past actions, even showing the roots of his wings as a sign of deep respect. These actions moved Buer remarking how much Sabro has grown, and eventually signed the petition to allow the Abnormal Class' transfer to the Royal One.
Walter Park Arc
After the final examination, Sabro went to Walter Park along with the Abnormal Class during their semestrial vacation. During their visit to the park, he was grouped with Iruma, Alice, and Agares with their teacher, Balam Sicirue as their entourage. While they were exploring and having fun in the park, the Six Fingers suddenly attacked by summoning three beasts in order to create a diversion while breaking out Amy Kirio from the prison below.
During the attack, he and his group fought the Dragon Beast in order to save the children trapped during the initial attack. As the battle progressed, he saved Alice from a direct attack from the beast that they were fighting and encouraged Alice to retreat with him, strengthening Alice's resolve to become Iruma's Indestructible Spear. The battle ended when Iruma used the Ring of Gluttony to absorb the magic energy of the beast which was going to destroy the park by attempting to self-destruct.
Harvest Festival Arc
Upon the resumption of classes, their homeroom teacher, Kalego, informed the Abnormal Class that the prestige of the Royal One requires students who worthy of its standing, therefore requiring all the students to reach the rank of Daleth (4) by the end of their first year, which is a feat normally accomplished after six years within Babyls.
To accomplish the task of reaching rank 4, students were given special tutors to prepare them for the Harvest Festival, an event which allows for students to raise their ranks. Sabro was paired with Alice, and was assigned Balam as their special tutor.
During the four-day Harvest Festival, Sabro teamed up with Alice. Together they competed with the Doro-Doro Brothers for the most points. Initially, it was a spite-driven competition when the Doro-Doro Brothers mistakenly assumed that Sabro and Alice "stole" General Furfur from them, leaving the front lines in order to teach at Babyls. The competition of both groups led to Alice entering his Evil Cycle in order to fight the Hundred Flaringo which was aggravated by the Doro-Doro Brother's Bloodline Magic "Trigger". Alice, growing out of control was snapped out of his Evil Cycle by Sabro which knows his Safe-Word. Eventually, both groups came to a proper competition of points for the remaining days of the festival. On the last day, Sabro collapsed out of exhaustion and completed the Harvest Festival with an accumulated 45,500 Points, ranking fourth in overall points. For his accomplishments in the Harvest Festival, he was promoted to the rank of Gimel (3).
Music Festival Arc
Sabro was part of the Abnormal Class' musical entitled "Lilith's Red Carpet" where he was part of the dance group and he also portrayed the Greedy Man. After the Music Festival, he along with the rest of the class was promoted to the rank for Daleth (4) for their performance (except for Iruma, who was promoted to rank 5)
Abilities
Weapon Creation: Sabnock's family's Bloodline Magic. Sabro can instantly forge a weapon out from nowhere that was manipulated from what he is currently biting. He mainly has three elements of metal encased as a necklace on his neck (which makes it easier for him to bite).[1]
Immense Durability: Sabro has a consistent strong skin that even though a lot of weapons hit and penetrated him, he can easily removes them with ease and without injuries.
Strong Strength: Sabro's masculine appearance shows his incredible strength, and he is shown being able to destroy metal weapons with his bare hands.
Motivational Speaker: Under Balam's tutoring, Sabro has learned how to relieve people of their wicked phases by talking about what is important to that person. Also, he managed to motivate Iruma to learn more about the previous Demon Kings.
Equipment
Necklace: Sabro wears a necklace tied around his cape that critically serves as a function to summon his weapons based on his Weapon Creation Magic. The necklace has three metal tags, with each has different elements induced on it, which are copper, silver and gold.
Familiar
Kelpie: Sabro's familiar is a mutant-like beast that is named Kelbie. Its visual representation appears to be a mix of a horse and a fish, potentially enabling it to live in both land and waters. This green-colored familiar has two front limbs, two large fins across its back to acting as wings, and a long tail fin. It has one large horn and appears to have several fangs attached on its mouth.[2]
Relationships
Silvia is shown to have a good relationship with Sabro. She enjoys spending time with him as Sabro is not home often.
Initially, Sabro sees much of Iruma, as their first meeting involved Iruma dodging all of the trap weapons upon entering the classroom, remarking that a true Demon King would never cower from anything. Sabro's respect for Iruma grew during their first classroom activity wherein Iruma saved him from the Cutthroat Valley Guardian leading Sabro to declare Iruma his rival.
He initially declared Alice to be unfit to be his rival due to his perspective of Alice become Iruma's servant. Their relationship grew during the events of Walter Park, in which Sabro questioned Alice's true ambitions which resulted in Alice resolving to be Iruma's indestructible spear. Their relationship further grew during and after their training for the Harvest Festival under Balam. This is shown in their cooperation in battle during the festival, and Sabro's use of Alice's Safe Word, something that only a person very close to them would know.
One of the teachers in Babyls, and his special tutor in preparation for the Harvest Festival. Balam's training included both building knowledge, such as understanding how the Evil Cycle works, and physical, wherein both Sabro and Alice were not allowed to go home until they were able to hit Balam in training.
Trivia
In demonology, Sabnock from the Ars Goetia, Great Marquis of hell is known for building high towers, castles, and cities, furnishing them with weapons, ammunition, etc..
Reference