This article is a stub. Considering the available information right now, this article is still incomplete. Mairimashita! Iruma-kun Wiki would appreciate if you can help in expanding it.
Shax Lied is a freshman student attending Babylus alongside Suzuki Iruma in the Abnormal Class.
Appearance
Shax wears the typical boy's uniform at Babylus, except he doesn't wear the bow tie leading to it being wide open. His coat is also shorter, being just above his waist. He wears a pair of yellow earrings, a yellow undershirt with wavy black design on the bottom, and slightly off white shoes. He has pointy ears, yellow eyes that are usually just slits, and a yellow hair with jagged patterns. He also has what looks like a horn broken into 3 pieces, shaped like triangles. One pair is stuck to his hair while the rest are levitating and facing away from each other.
Personality
A cheerful guy who is often seen playing some kind of game. He himself admits that he is addicted to gambling as well as games, and even chooses a battler that allows him to indulge in his hobbies.
History
At some point, he got carried away gambling and accidentally sent a student to the hospital, resulting in his placement in the Abnormal Class. 
Story Overview
Harvest Festival Arc
Alongside Iruma, he was assigned to Bars Robin (Vol. 12, Ch. 95). Although he initially felt like nothing was going to improve because of Robin-sensei's unreliability, upon meeting his sister Bachiko and being subjected to random activities such as ___ , he decided that he will approach Robin-sensei after all. This ends up exhausting him, being unable to match Robin-sensei's enthusiasm in wanting to clear all of Lied's games (which he brought when he was told to bring his favorite thing) in six days, telling him that it was needed to train his concentration.[2]
Abilities
Controller (Sense Stealer): Shax' Bloodline Magic. Lied has the capability to steal one of the target's five senses and turn it into his own. The corresponding organ of the wielder turns black, which signifies which organ he had stolen. Following his intense training with Bars Robin, he amplifies his level of concentration and is able to continuously thieve victim's senses without wasting his mana.[3]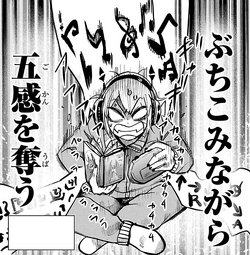 Concentrated Power: When Shax steals his own senses while being really stressed out (by having to read a book while playing a game with a music bombarded on his ears) he amplifies his concentration skill, further deepening his acute senses that enables him to locate anything.[4] By sacrificing one of his senses, he can manipulate that specific sensory to target. For example, he steals his own hearing for him to hear conversations from a location.[5]
One-Shot Focus: An overbearing ability from his Controller bloodline magic, Shax is in an astute condition, being able to accurately uses his senses in its greatest level. Only by being in pain, distressed and exhaustion due to low mana can activate this.[6]
Acute Senses: Not only a great sense stealer, his own five senses are strengthened to be able to be greatly focused and can be used to see, hear, smell, and/or touch traces of magic.[7]
Relationships
Older Sister
Shax and her older sister does not get along very well. They quarrel most of the time they see each other, often bickering about Shax's addiction on video games.[8]
Trivia
His last name is officially written in English as Lied from the mangaka's tweet, additionally this can be seen at the last page of Volume 15.
In demonology, the demon Shax is a Great Marquis of Hell and commands thirty legions of demons on evil horses. He is known to take away the sight, hearing and understanding of any person under the conjurer's request, and steals money out of kings' houses, only to return it 1200 years later if everything is still in order. He also steals horses and everything the conjurer asks. Shax can also discover hidden things if they are not kept by evil spirits, and sometimes gives good familiars, but sometimes those familiars deceive the conjurer.
Reference
Community content is available under
CC-BY-SA
unless otherwise noted.