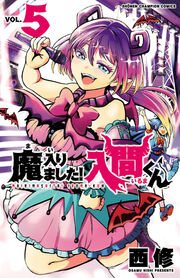 Mairimashita! Iruma-kun Volume 5 contains chapters 35 to 43.
The cover features a colour print of Kerori in her Kuromu guise with Iruma in his Devidol disguise behind her.
Chapter 35 - Never Give up on Anything
Iruma dreams about what Kirio told him about Demons "returning to the originator" before waking up in Sullivan's lap. Iruma asks if Sullivan finally came back, and he explains what happened.
A little while ago, Bars Robin fired an arrow with a message attached. Robin's Bloodline Magic, Bullseye Shot, allows him to fire an arrow that won't stop until it reaches its target. It reached Sullivan when he was still being interrogated, and he successfully catches it with his fingers. He read the message and figured there was something happening at Babylus, so he escaped Henri's men and made his way to the school where he saw the fireworks. He then noticed several meteors falling down afterwards, but he managed to removed them before they did any damage and worked with the staff to clean up the mess. He finishes by saying he saw him and Kirio at their current location. Iruma asks about Kirio, and Sullivan says he was calm when he was arrested.
Back with their meeting, Kirio, while restrained, assured Sullivan that even if he called people here, he wouldn't run away. Sullivan asks if what happened was planned by him and him alone, and Kirio confirms. He does say he doesn't regret it, because after years of accumulating magic, it all fell apart in the blink of an eye. He says he liked the desperate expression he made when it happened, and he tells a disturbed Sullivan his facial expressions and posture should indicate his feelings. He asks Sullivan to pass a message on to him: It was a pity the fun was ruined, but he had a good time and they will share more enjoyable times again.
Sullivan says that while Kirio was arrested, the criminal investigation will be difficult. Iruma asks what will happen afterwards and Sullivan says he will be punished appropriately, since the school wasn't damaged. He picks Iruma up and puts him on his shoulders saying he needs to bear responsibility for this wrongdoing. Iruma fears getting scolded, but is surprised when Sullivan shows him all the students cheering for him because they loved his fireworks.
Sullivan jumps down with Iruma and Ameri runs up to him praising him for the beautiful fireworks. Though she does say he should have told her prior since she thought they would watch it together, even though Iruma said nothing of the sort. All the other students crowd Iruma asking if he can make them again, as Sullivan hands Iruma a megaphone to announce his Division. Iruma says he is from the Magical Tools Research Division, which surprises everyone because they just considered that Division luggage storage. Iruma continues saying Alice, Clara, himself, and Kirio were the ones who made it. He does apologize for the mess prior but the students don't mind.
As Iruma sees the students, Alice and Clara cheer for him, Iruma acknowledges to Kirio that he considers him a fearful devil, he won't forget the time they spent together, and that he will never give up on anything, not even him.
Chapter 36 - Spending Time with Family
The Eve of the Division Festival passes and the students proceed to celebrate the Main Festival. While students will have fun, they will also vote for other Divisions and not their own. The teachers will also evaluate the Divisions themselves. Also, the parents of the students are allowed to come and see the festival too.
Iruma and Alice create three firework cannons to fire. Alice asks if he is okay and Iruma says he is thanks to Sullivan's recovery magic. Alice offers to go for a walk with him, and he agrees, also saying they can wear Clara's outfits for advertising. He turns to Clara to say they should go, but the both are surprised when they see two other kids looking like Clara hugging her legs. Clara announces that her family has arrived and introduces them to her friends: Valac Keebow and Konchie, the second and third sons, Valac Sin Sin and Ran Ran, the two youngest members, and their mother. They also have a portrait of their eldest son Valac Urara who couldn't make it. They say they are pleased to meet everyone and that they were very friendly.
Clara's mother thanks Iruma and Alice for being friends with Clara and looking after her, she starts offering snacks and toys before Clara tells her it is time for them to explore the festival. After the Valac Family leave, Alice's mother Asmodeus Amaryllis comes him, much to his horror. Amaryllis hugs her son and says it was mean of him to leave her behind because she had to finish all her work before coming. Alice asks what happened because David was supposed to keep an eye on her, and she explains she gave him a lap pillow and an ear cleaning to take him out, much to Alice's frustration. Amaryllis approaches Iruma and introduces herself, saying that Alice talks nonstop about him. She says she heard about the fireworks and ask if they are an erotic tool, embarrassing Alice. He quickly pushes her away from Iruma saying they should visit Raim since she was Amaryllis' student before.
Iruma thinks to himself that every family has a story, and they reveal their true appearances when they are around. He says it is nice before he gets picked up by Sullivan, who brought Opera with him. Iruma asks about his work and Sullivan says he finished it, and he promised he would visit the Divisions with him. They visit the Demon King Division and see Sabro's play, which did really good. Sabro's sister Silvia praises him for the play and introduces herself to Iruma while also saying she gets really happy whenever she is with her brother because he doesn't come home often. Sabro asks about their other brother and Silvia says she lost him. The two set off to find him as Iruma notices a game booth.
To his surprise, it is the Dodgeball Division, and they offer him to play their game of breaking the targets. Opera plays and he manages to break all the targets, which is surprising because they were made out of iron, and he wins Iruma the big prize while Iruma apologizes. Throughout the festival the three visit many stalls and Opera wins several prizes. At the end, Iruma says they just conquered all the Divisions, which Sullivan blames Opera for for being strong and Opera in turn blames Sullivan for going everywhere. Sullivan looks at Iruma and says they enjoyed the festival to their heart's content and since this is the first time they have done something like this, he wanted to show his best emotional face to his dear grandson, which touches Iruma.
Lied and Jazz see Iruma and walk over to him, praising him for having a great family, espcially compared to Lied's sister, who overslept and couldn't make it, and Jazz's brother, who stole his wallet when he bumped into him. Iruma smiles and says he has a great family while holding Sullivan and Opera close to him. An announcement is made over the intercom and the Broadcast Division announces that the festival is coming to an end and now that voting is done, it is time to announce the final rankings, especially the best Division.
Chapter 37 - Glorious Commendation
The night after the festival, Babylus hosted the Division Party's final event: the awards ceremony for the most excellent Division, and the person presenting is Ameri. Ameri starts the ceremony by awarding the Great Effort award to the Division in third place, which is the Succubus Division. Ameri says they won because of their tremendous exuberance and as a result, the atmosphere of the festival had become so lively, so the prize they win is the "Gorgeous Division Room". In second place is the Magecraft Development Division, because they allowed students the ability to exchange knowledge and develop their own magecraft, so their prize is increased Division expenses and a self-selected presentation.
The first place prize, Ameri announces, goes to the Broadcast Division, because of how they calmly responded to unexpected situations and how they relentlessly broadcasted two days straight, demonstrating great stamina. Several students praised the Broadcast Division for their accomplishment, but several others hoped the Magical Tools Research Division would have won. As it turns out, they got disqualified because of Kirio causing the incident prior, so the judges felt it wouldn't be a fair assessment. Iruma was a little sad, particularly since he promised with Kirio, but accepts the decision.
Before the ceremony comes to a close, Kalego takes the microphone and gives his own thoughts on the whole event. He says the Division Party was troublesome, especially the Division that didn't report anything to the teachers and voluntarily performed a dangerous and showy demonstration. As much as that deserves punishment though, the overwhelming support of the school has resulted in Kalego and the other teachers to create a new prize: the Tricky Prize, which allows the Division Representative's rank to go up by one. As a result, Kalego calls Iruma up on stage, and while he scolds him for his recklessness and advises him to rely on his teachers, he nonetheless chooses to increase his rank to Rank 3.
Everyone cheers for Iruma, and while he himself is happy, he feels bad Kirio isn't here to receive it himself. He nevertheless takes it as a sign of how much they have gone through together. Sullivan goes up to Iruma and praises him for ranking up, even pointing out how much he stood out, which pulls Iruma back down to reality and he remembers how much he was trying to lay low so no one figures out he is human. The Newspaper Division approach him, much to his dismay, as he is observed from afar by another person.
Chapter 38 - Human Treatment
As a result of the Division Party, Iruma has more popularity now than he had before. He tries to hide from the crowd and panics about what would happen if everyone finds out he is a human being. He ends up bumping into Ameri, and when he asks what she is doing, she explains she is looking for an acquaintance of her and leaves to continue. Afterward Iruma thinks it is strange seeing Ameri act so hastily, causing him to wonder who exactly her acquaintance is. He is then approached by tall adult asking if he is Iruma.
The two of them sit down on a bench, as Iruma gets the feeling the man is very similar to someone he knows based on his appearance and the stare he was giving him. The man thinks back to his interrogation of Sullivan and how he said he has to return to the school after receiving Robin's message. He tried to keep Sullivan from leaving so he could complete the investigation, but he eventually backs off when Sullivan releases a very intimidating aura.
In the present, the man grabs Iruma's face, and while looking at him, theorizes Iruma was forcibly brought to the Demon World by Sullivan, so he must be human. He continues to analyze him as Iruma continues to feel like he has done this before. The man sits closer to him and tells him a secret: that he had met a human previously. Iruma asks if he caught the human, which the man confirms. He then says the upper half was given to a lab for experimentation while the lower half was eaten, scaring Iruma, before revealing it was a joke. In reality the human was "protected" and safely sent back to the Human World; the statement surprises Iruma. The man says the procedure for returning involves erasing all memory of the Demon World. He also says that the number of Demons "returning to the originator" is increasing, which is dangerous for humans. The man is about to ask Iruma if he needs any help before Ameri pops up and calls him her father.
As it turns out, the man is Ameri's father Azazel Henri, which surprises Iruma even more. Henri asks Ameri if she knows Iruma, and she confirms saying he has accomplished many things and announces him an excellent demon. Henri, accepting this statement, apologizes to Iruma for disturbing him and says to his daughter that he didn't expect her to evaluate one person that much. Ameri says she often talks with him, which disturbs him. Ameri continues by saying they meet alone and drink tea together, causing Henri to ask why. Ameri answers that they talk about love, trying to hide the fact they read "Sweet Time Memory". She continues saying they talk about the future, though while she meant their dreams, Henri interprets everything she said as marriage.
Henri starts feeling dizzy as Ameri and Iruma asks if he is alright. Henri says to him that their relationship is not good enough for him to call him father, which Iruma never did. Ameri decides to take her father to the infirmary to cool off as she says goodbye to Iruma. Iruma admits Henri scared him a bit, but acknowledges that 'protection' is something he should prioritize. He gets pulled out of his thoughts though by Clara and Alice, who find him so they can go to class. As Iruma walks back with them, he says to himself that he can never tell anyone that he is human.
Chapter 39 - Sincere Cooking Battle!
Community content is available under
CC-BY-SA
unless otherwise noted.